Camila Suliani Raota
from KIT won the Falling Walls Lab Heidelberg
Winners of the Falling Walls Lab Heidelberg
1st place:
Camila Sulaini Raota "Breaking the wall of Purifying Water with Sunlight"
2nd place:
Florian Klein "Breaking the wall of
Oncolytic Adenoviruses' Limitations"
3rd place:
Ryan Alicea "

Breaking the Wall of Lifelong Disability"
Audience award:
Ryan Alicea "

Breaking the Wall of Lifelong Disability"
Three minutes! That's all our participants needed to present in this pitch-competition their solutions to some of the most pressing challenges of our time to us.
After 30 minutes of intensive discussion, the jury agreed:
The winner of the Falling Walls Lab Heidelberg 2022 is Camila Suliani Raota from KIT in Karlsruhe. With her research team, she developed a membrane that uses sunlight to filter and purify water contaminated with hormones. "The project is sustainable, addresses a global problem and already has a 'proof of principle'. It will be exciting to see how things continue and whether the approach can be scaled up," says Prof. Dr. Markus Alber from the jury.
The runners-up also have ideas that can change the world:
Florian Klein from the TUM in Munich, who took second place, is working on a new type of cancer therapy.
Third-place finisher and winner of the audience award Ryan Alicea from Heidelberg University is researching a glove that will allow disabled people to move their hands again.
Congratulations to all of them!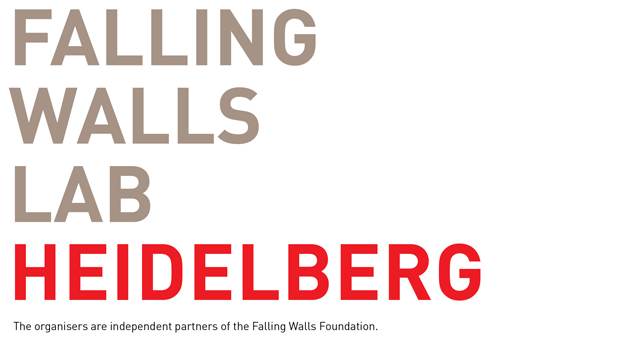 A stage, a great idea, and three minutes to present it. This is Falling Walls Lab Heidelberg. The international forum offers up-and-coming talents, innovators, and creative minds the opportunity to present their research, initiative, or business models to peers, a high-calibre jury of experts from academia and business, and the public - in 3 minutes each!
The winner of the pitch competition in Heidelberg qualifies for the global final in Berlin on 7 November 2022 and wins a ticket to attend the Falling Walls Science Summit, where they get to interact and network with the world's movers and shakers of science, business, and policymaking.
Falling Walls Lab Heidelberg Poster & Program Booklet
Falling Walls Lab Heidelberg is hosted by Heidelberg University and Wissensfabrik e.V. and supported by Karlsruhe Institute of Technology (KIT) and Heidelberg Karlsruhe Strategic Partnership (HEiKA).

Questions?
Contact us via unternehmertum@wissensfabrik.de