We invite all scientists (junior and senior) from all disciplines and departments to join us at HEiKA Day 2023!
YOU CAN EXPECT an exciting SCIENTIFIC MATCHMAKING EVENT where you can share your research interests with scientists from different disciplines and find new collaboration partners
- and -
We will provide you with all the details about the current CALL FOR HEiKA PROJECT PROPOSALS.
FROM 6:30 p.m. we will meet with all participants as well as colleagues and friends for the HEiKA summer party in the courtyard of the Marsilius Kolleg.
Let us know if you will attend: Registration
Venue
Marsilius Kolleg Heidelberg
Address
Im Neuenheimer Feld 130.1
69120 Heidelberg
Germany
Program HEiKA Day
3:00 pm  ---  Welcome and information on the current
3:20 pm  ---   HEiKA Scientific Matchmaking Event
(Registration requested!)
6:30 pm  ---  HEiKA Summer Party in the Courtyard
[open for all, so invite your friends and colleagues along].
HEiKA Scientific Matchmaking Event
– for all junior & senior scientists of all disciplines
You can participate by bringing:
a printed poster (Din A1-A0)
a digital presentation, a printed handout etc.
just yourself  =)
to present and explain your research and/or your interests in collaborations.
[Keep in mind, you will be presenting/talking about your research to a highly interdisciplinary group of people!]
Please let us know about your choices and register!
Starting point:
We will set up two groups (A. and B.) of participants to talk to each other about their research interests.
The schedule:
Two initial Matchmaking rounds (speed dating-style) – 120 min
Open Space Meet-up (for more in depths individual conversations) – 60 min
Summer Party

where all further conversations can continue casually over snacks and drinks (until 9 pm)
More details will follow soon.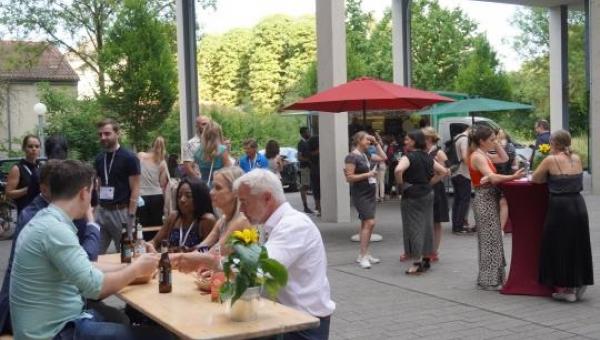 Networking at HEiKA event
Join us at the HEiKA Day and Summer Party!